Edit your Profile
Below you will see a sample profile. You can access your own profile by logging into your account and selecting "My DoneDeal".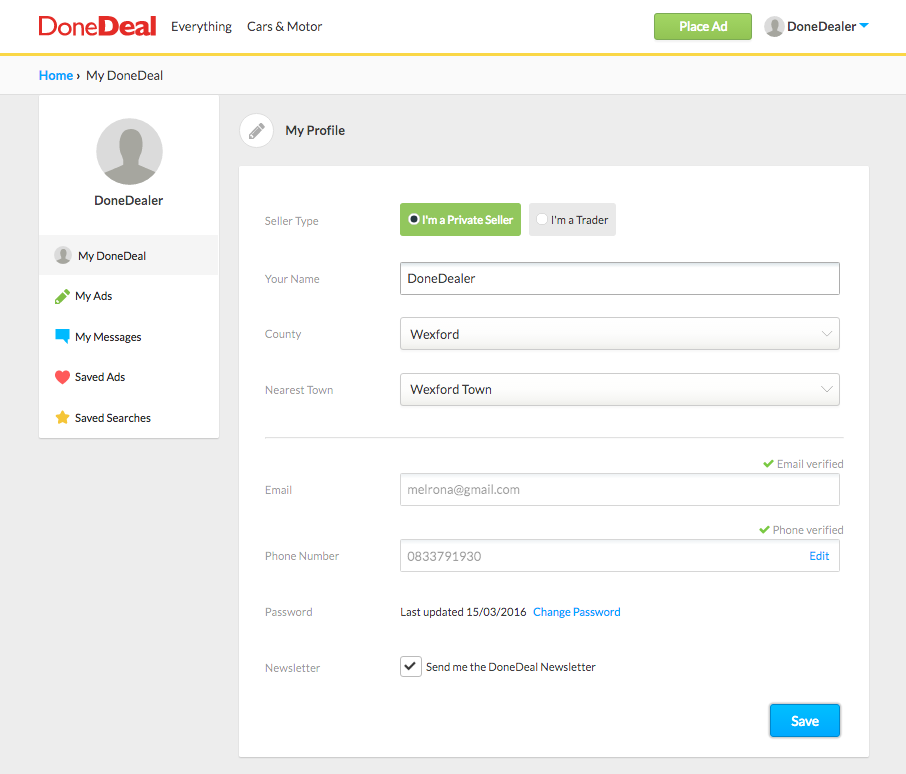 A lot of the fields are editable by you and can be easily updated at any time. See details below: 
Profile Picture - We don't currently have a way for you to add a profile picture. It is something that we will work on in the future. Watch this space! 
Seller Type - If you are using DoneDeal to sell professionally and you have a VAT number - you should select the second option "I'm a Trader". 
Your Name - In the sample I've typed in DoneDealer - it is best to use your real name, no need to give your full name - your first name is appropriate. 
Your County - Here you'll select your location and the assumption will be that this is where the item is available for sale. 
Nearest Town - Again, for collection purposes it's best to select your nearest town so the buyer/seller can gauge the distance they'll have to travel. 
Email - For security reasons you'll not be able to change this via your profile. If you feel this is a problem, please get in touch with our support team here
Phone - You can edit the phone number on your account should you need to. 
Password - You can change your password at any time. 
Newsletter - Simply tick this box to subscribe to our Newsletter and un-tick to unsubscribe. 
*Hit the save button on the bottom right to update your changes. 
Verifications 
You can read more on verifying your email here and how to verify your phone number here