Introduction to DoneDeal
Welcome to DoneDeal! We've put together a bit of an overview to help you familiarise yourself with some of the features before you get started DoneDealing! 

---
View features by page
---
The home page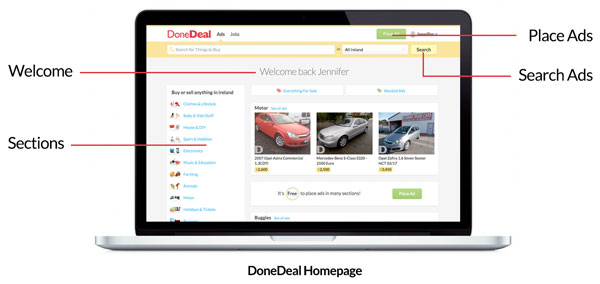 Personalised
Logged in users will now get a welcome message from DoneDeal if you're logged in. To get the most out of our features, it's best to be logged into your DoneDeal account.

Sections
You can quickly access your favourite top categories from the home page. This means you'll be able to access content up front while you refine your search to best suit your browsing needs.

Place Ad
You can quickly link to place ad from every page on the site. You will need to log in or sign up to publish an ad on DoneDeal. Our place ad process is now on one page so it's easier and faster than ever to get your ad up on DoneDeal.

Search Ad
When it comes to search, again, you can browse as best suits your browsing needs. To get the most relevant results you should navigate via our sections and use the appropriate filters to find the best result matches. However, should you wish to simply type in what you're looking for, you can do so in the text box. This will then show you what sections you'll find this item.

Content from your favourite section
New content from your most recently visited sections will now display from the homepage. This will help you quickly link to your favourite sections straight from the homepage.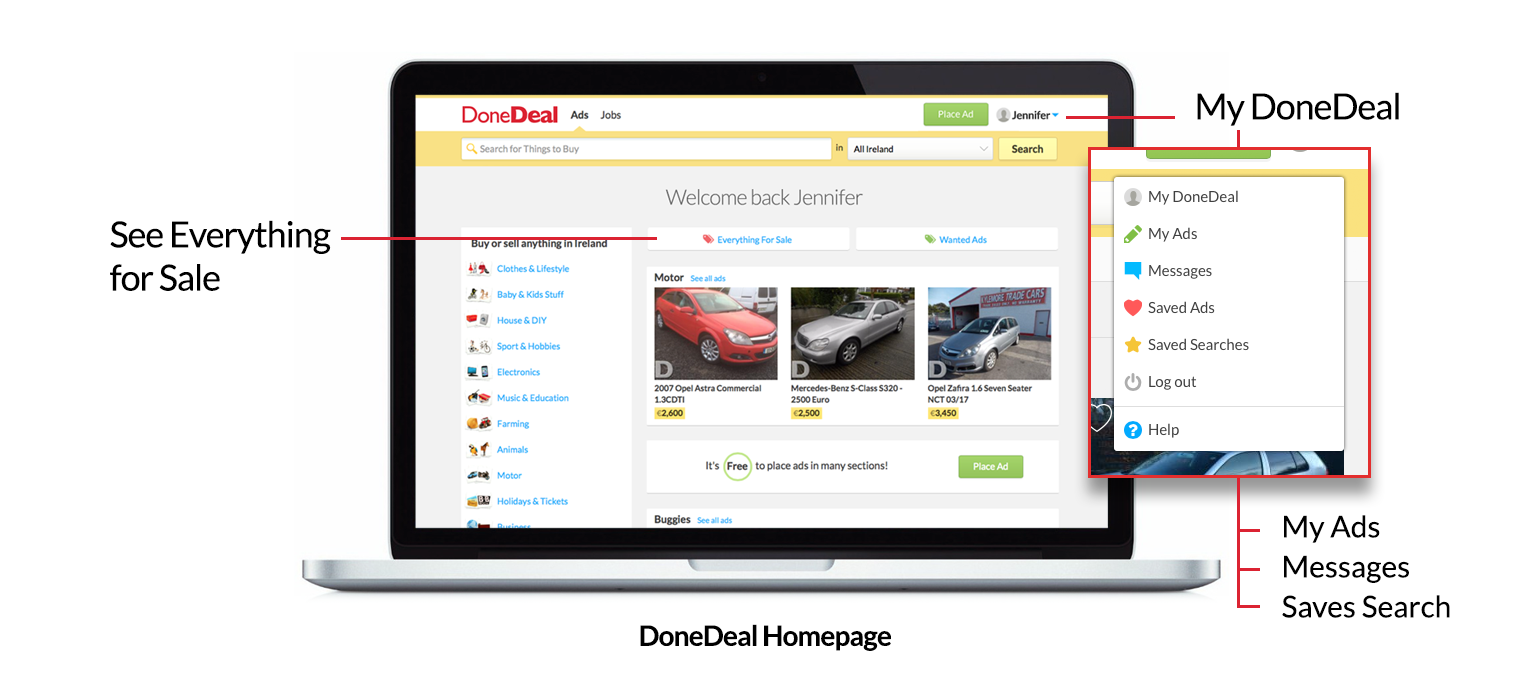 My DoneDeal
You can manage all your ads, saved ads, saved searches and messages from your DoneDeal account.

My Ads
Making managing your ads easy, you can access all your DoneDeal ads in one place.

Message Centre
You can manage all your messages from buyers and sellers in one place via your DoneDeal account.

Saved Search
You can now save your favourite searches and get daily alerts when new ads get published on the site.
---
Search Page
Refine
Refine your search to find exactly what you're looking for. A tip is to make sure that you're in the right section to get the best possible refine options, especially if you're browsing for something like cars that have a lot of specific refine options. If you're browsing DoneDeal on a mobile or tablet, just press the refine icon and the refine panel will open on the screen.

Sort
You can sort your search results to view them in your preferred way. When you use a keyword search DoneDeal will give you the ads that best match your search term at the top. You can easily change this to match your preference. Chose between newest, best match or sort by price. Here you can also chose to see your search results in a list instead of the ad cards.
---
Ad details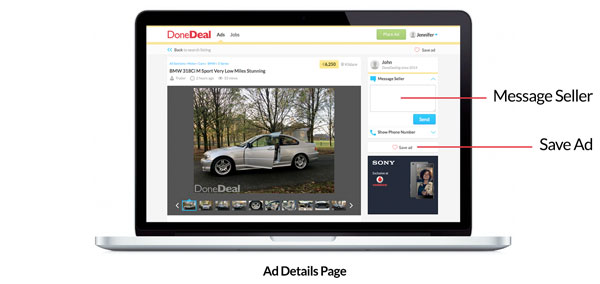 Message seller
Message the seller without leaving the ad page. Once you're logged in, just type your message in the box and press send. You can find all of your messages and replies in the My DoneDeal pages.
Will there be more new features coming soon? 
Yes, this is just the first version of the new look DoneDeal. We'll have plenty more cool new features to roll out in 2016!