Verify my DoneDeal account
When you're setting up an account on DoneDeal you have to go through a verification process. 
Verifying is the easiest way for you to build trust within our DoneDeal Community. We hope this will facilitate:- 
Safer transactions 
Opportunities to build up your own reputation
Help users be more informed. 
This is really simple and just requires you follow a link from the email account associated with your DoneDeal account. This allows you to get a "green tick" to show other DoneDealers that you have taken steps to verify your details.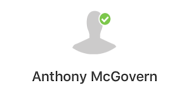 We'd encourage all users to do this via their DoneDeal settings. You can access this via a link above your email address.