Scam Watch: Texts asking you to email more photos/infomation
DoneDeal uses a SafeMail System. This means that when you send or receive an email through our site, your actual email address can NOT be seen. We do this to stop any non genuine people getting your email address.
We also do it so that we can block email addresses that are not genuine from contacting any of our sellers on our site.  For these reasons we recommend that you never email anyone about your ad outside of the email link in the ad itself.
How to recognise this scam
Some of our DoneDealers have told us that these non genuine characters are trying to get you OFF our SafeMail System.
They do this by sending text messages to people that are advertising on our site asking them to email them outside of our SafeMail System.
How does it work?
1 - You receive a text message about your ad on DoneDeal. The text reads something on the lines of the following:
"Hi, I'm interested in your item.  Please email me more photos to s.mark434@gmail.com"
or
"Hello, abt ur "item" on donedeal.ie, what is ur price, pls reply me directly to my email add: rowlandalicia29/at/yahoo.co.uk, Thanks, Alicia"
Top Tip: 
They can use online web text services so the text can often come up as if you'd had them in your contacts already. If you look for the information on the number you'll see they are normally not the same format as an Irish Mobile (08+) - see example below: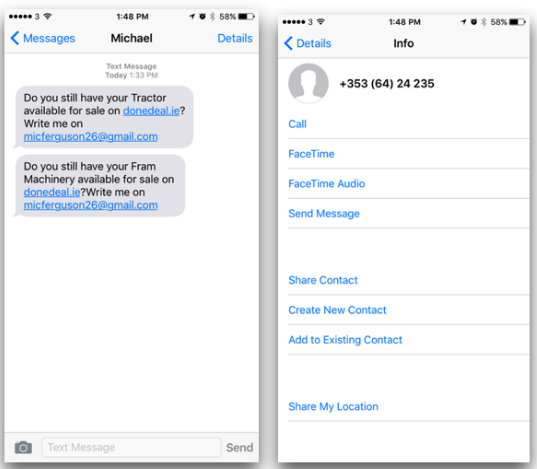 2 - You send an email to the person and receive the following/similar reply:
"Hi mate, I have looked at it a few times now, and after looking around, I'm satisfied with the great condition but what's your actual price for it. I love a bargain, so i would like to get it as soon as i can. I would be able to make payment through PayPal, i find it the easiest way to use my credit card safely and is a safe and reliable method of payment... Let me know your price for it . I hope to hear from you soon, and i will make all transportation preparations for the it to be transported to my home in London,UK. If possible can you send me some recent picture or video of the item?"
The scammer that sent the text has already been blocked from sending any emails through DoneDeal, that is why they text you to try encourage you to email them off our site.
We would strongly recommend that you only email people about your ad through the SafeMail link in your ad. So if you receive a text message looking for more information by email, do either of the following:
or
Text back to the person telling them to email you through your ad and you'll send them the details there. Any genuine buyer will be happy with that.